Judy (Berigan) Aubey

Life has been most interesting in the five years since I retired and since our last reunion. My family continues happy and healthy, with sons and their families living in Madison and NYC. My 94 year old mother died two years ago, and my six siblings and I were just able to have a long delayed reunion and family memorial for her in May. Two siblings live in Madison; four came from Georgia, Utah, California and Brazil. We ate, we drank, we laughed and the out of towners explored the ever growing metropolitan area that is Madison and Dane County. Our last evening together, we had a campfire at Festge Park, outside Cross Plains.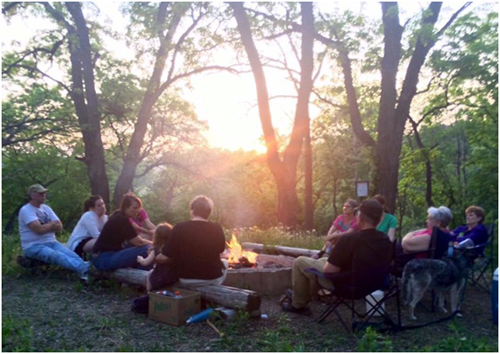 (There are seven Berigan siblings pictured above, all of whom graduated from West, as did my three sons and one grandson. Also present, but not all pictured, one niece, two grandnieces and two spouses.)

We had a weekend of grilling and brunch and fun. We had a family photoshoot. Here's a picture of my crew at my son Mark's eastside Madison home.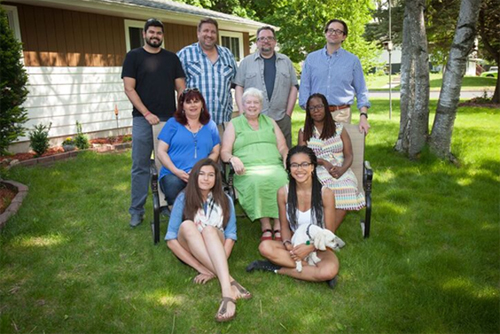 Pictured at son Mark's house: (Front row (left to right): Granddaughters Julia and Maddy; middle row: Patricia, me, Janice (daughters-in-law); back row: Luis Felipe (grandson); and sons Mark, Luke and Ben)

I'm still having a varied and interesting life, despite some truly annoying musculoskeletal issues that limit the duration of my walking and standing. I'm on hiatus from corner working sports car races, as standing up for long period of time (no sitting down, if the track is "hot") is not allowed, which is quite a nuisance. I hope to return to that volunteer work, as it is fun ("the second best seat at the track"), and the Midwestern Council of Sports Car Club people are almost a part time family. I'm still involved with the WI Public Health Association and the Alumni Board of the UW School of Nursing. I hang out with my retired public health colleagues via monthly breakfasts, and with those still working, via email and, of course, Facebook. I've spent my last several years discovering parts of Wisconsin that I haven't had time to visit for years, plus visits to Montreal and NYC. And I still have plans to get further afield (my mother's last few years meant staying on the same continent).

Hope to see you all at the reunion.
---