McMurray, Bruce

Clifton "Bruce" McMurry, 64, of Green Bay, and formerly of Fond du Lac, passed away Friday, March 14, 2008, surrounded by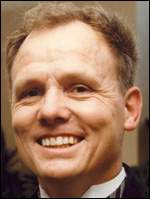 his loving family, after a courageous battle with a recurrence of pancreatic cancer.

Bruce was born on Nov. 19, 1943, in Madison, the son of the late Elmer and Mildred (Perry) McMurry.

He was a graduate of Madison West High School with the Class of 1961, where he excelled as a wrestler, winning numerous championships and trophies.

Bruce was proud to have served his country in the Army National Guard.

He pursued his education at the University of Wisconsin-Stout where he earned his degree in technical education with an emphasis in engineering. His excellence in engineering awarded him a U.S. Patent in the process of material handling. Bruce was the owner and operator of Powder Pak, Inc. in Fond du Lac, which later became Powder Systems in Sun Prairie until his retirement in March of 2007.

Bruce was a loving and generous man who always thought of others before himself. His gift of determination and positive thinking was something he demonstrated in his daily life, which also carried onto those around him. Bruce had a magnetic personality, which he displayed in a quiet, gentle manner along with his witty sense of humor. He had a passion for woodworking and found a great sense of accomplishment in creating handcrafted gifts. Bruce was known to spend hours planning a project before solving a problem no one else could address. His creativity and engineering skills made us all smile when we received the blueprint with the master repair plan! Bruce loved to travel with his family, and especially cherished a trip to Ireland. He was a devoted husband, father, grandfather, brother, and friend to many and will always be lovingly remembered and sorrowfully missed.

Bruce is survived by his loving wife and best friend, Patricia; his children, Richard McMurry, Oshkosh, Julie (Anthony) Baker, Brookfield, Robert (Erika) Leonard, Pawleys Island, S.C., Jennifer (Larry) Gille, De Pere, Kathryn Leonard, Fond du Lac, and Joseph Leonard, Appleton; his grandchildren, Jackson, Keegan and Samuel Gille, and Gabriel, Bella and Jacob Leonard; one sister, Marilyn (John) Annin, Land O' Lakes; his twin brother, the Rev. Douglas (Carla) McMurry, Charles City, Va.; nieces; nephews; relatives; and friends.

Visitation: A gathering of family and friends will be held from 10 a.m. to noon on Wednesday, March 19, 2008, at Resurrection Catholic Church, 333 Hilltop Drive, Green Bay.

Services: A memorial service will be held at noon on Wednesday, March 19, at the church with The Rev. Douglas McMurry and Fr. James P. Neilson concelebrating.

The family would like to offer a warm note of appreciation to the entire staff of St. Vincent Hospital, Green Bay Oncology, and Unity Hospice for all their support and dignity shown to Bruce. You were taken too soon from us, but your positive attitude will forever be a source of inspiration that will remain in our hearts. This is not goodbye, only "see you later … " Love, your family.

Hansen Family Funeral and Cremation Services of Green Bay is in charge of arrangements and is assisting the family. Additional information and an online guestbook can be found at www.hansenfuneralservice.com.